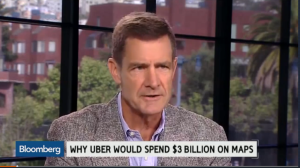 Buying and selling map companies is back in the news so I am back on Bloomberg.  I really enjoyed this interview with Emily Chang and Cory Johnson on Bloomberg West.  We covered a lot of ground and they had very good questions.  My reference in the title refers to the year both major map companies were acquired, NAVTEQ by Nokia and TeleAtlas by TomTom.  My prediction for 2015 (made and witnessed in January) was that 2015 would be a repeat of 2007; both HERE and TomTom Licensing would turn over again.  I have high confidence that I will be at least half right and there's a good chance I will be 100% right.
That said, a lot has changed since 2007, making this a more interesting situation. Consider the following (each worthy of a separate post):
In 2007, conventional wisdom was that no one would ever build another digital map of the world. It was too hard and too time consuming.  Google and OSM disproved that, and there's a least one more on the way…not counting ambitions of the Chinese giants like Baidu, Alibaba and Tencent.
The companies that acquired NAVTEQ and TeleAtlas underwent massive turmoil in their primary markets and in the mapping markets, wiping out most of the assumptions that they had in 2007. Nokia and TomTom's main markets (mobile phones and PNDs) were crushed by competitors and alternatives.  This hurt their ability to invest in their acquisitions at a time of significant market disruption. The loss in value of those acquisitions is well documented.
In LBS, paid services gave way to ad supported services, further changing the value propositions under which they made their investments.  More positively, maps, location and location-based context have spread into every corner of the internet and mobile, making it truly an ever-present utility.
Changes in data collection, sensor availability, connectivity, cloud computing and data processing have radically changed the way maps are built and the economics of maintaining them. Companies built around old methods have been at a disadvantage to companies that took a fresh approach.  There are plenty of the former and the latter in the mapping market.
Location-enabled understanding of a business, of consumers and of the marketplace is quickly becoming a core competitive asset for many, many companies.  In 2007, this was mostly about navigation, at least in the consumer side.  It was the only way any of us knew how to get paid.  It is still about navigation but also so much more.
So while it may happen that the mapping companies undergo ownership transition again in 2015, that doesn't mean that this is 2007 all over again. It will be interesting to watch. This HERE story is certainly generating a lot of rumors.
Last, thanks for the kind, witty, snarky and perceptive commentary coming out of the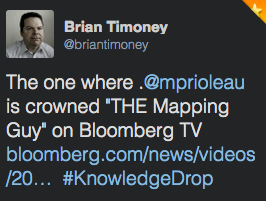 interview. It makes me appreciate anew the community around mapping and location. I hope to walk humbly, knowing that there are many, many great Mapping Girls and Guys out there with greater insight and knowledge.