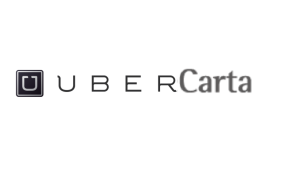 Big news for the day in the geo-world:  Uber bought deCarta, the long-time LBS platform company that at times powered the likes of Google, Yahoo!, NIM, TeleNav, TomTom and many more.   In their statement, Uber states that they "will continue to fine-tune our products and services that rely on maps — for example UberPOOL, the way we compute ETAs [estimated times of arrival], and others — and make the Uber experience even better for our users."  This is also the first announced acquisition by Uber.  Terms were not announced but it is suspected that Uber's war chest of $5.9B raised remains largely intact.
(Disclaimer:  I worked at deCarta six years ago and am a shareholder under non-disclosure.  Sorry, no secrets here.)
A couple observations about the deal:
deCarta has what Uber needs:  Uber is about cars and drivers and getting people (and someday things) places.  That puts an emphasis on maps, but specifically on the navigation, routing and geocoding technologies that sit under the "maps" umbrella.  A couple of those technologies, notably routing and geocoding are hard to do.  The basics are easy but the exceptions drive you nuts.  Further, they are technologies where it is hard to differentiate to the positive; You can route someone correctly 99 times but they will remember the one time you mis-routed them until they die.  deCarta's geocoding and routing have been optimized over many countries, customers and years. Uber bought some key technologies that are hard to build and hard to perfect.
Uber is not content with generic geospatial functionality:  Uber had been using Google Maps which are very good, but built for multiple use cases.  Your routing is good but no different from the routing that anyone else gets.  Uber wants to be able to build competitive advantage through routing that is better, more flexible and more customized for their applications.  Think about UberPOOL:  Yeah, you go from Point A to Point B, but now you pick up passengers at Points C and D.  Owning the routing algorithms allows Uber to tailor the routing to their needs. Anand Babu wrote a very timely article about what this means just a week ago.
Uber wants to own their location assets: While I was at deCarta, I lived through the disruption that Google caused in the mapping industry.  At the height of this, Bill Gurley of Benchmark used this as a case study on disruptive tactics in an article called "Google redefines Disruption: The Less Than Free Business Model".  It's worth a read.  many thought that Google would eventually be the only mapping game in town, especially after Apple's initial missteps in maps.  But I think Uber's move here is part of a larger trend I am seeing, especially among the big mobile and Internet players; they don't want to rely on Google for maps.  They want to own that themselves.  Several reasons:
They want to differentiate their product.  For Uber that might mean routing, but it could equally mean differentiation in delivering search results, in a style and look that matches their brand, in new functionality around data visualization and display or maybe they just want something that doesn't look like all the other maps out there.  Again, Google maps are a great property, but it delivers the same service to all, with no opportunity to differentiate.
Google is a competitor: It's hard to identify a vertical market that Google may not compete in someday, but this is certainly true for social networks, local search, travel, real estate, hotels, automotive applications and many other areas where Google has used its mapping assets as a wedge to break open markets.  The logic of using an asset from someone who is trying to steal your business is…problematic.
They want to own the location assets:  This topic was discussed at length when Apple launched its maps.  Despite the well-documented issues there, most agreed that it was a worthwhile investment, because Apple, wanting to control the mobile experience, couldn't rely on an outside company for a critical mobile asset like maps.  <update>There are several reasons for this but the one that is emerging is that the data collected from users about where they are, what they are doing, where there's traffic and more is all valuable context for tailoring services.

</update>

If that's true for Apple, it is true for the many other big players in mobile and internet who have the resources and the aspirations to want to roll their own.  Frankly, I am surprised it's taken this long, but those wheels are turning.
Uber made a good move.  This acquisition will accelerate their ability to uniquely define their service.  Many congratulations to Kim Fennell and the team at deCarta.  Looking forward to seeing great things at Uber.  <update>When Google launched in 2005, they were built on deCarta's platform.  As they grew and extended their capability, they needed more control over their destiny and replaced deCarta's platform with their own.  Ironically, Uber is doing the same thing now by buying deCarta. </update>
Last thought:  It took Google ten years to get where they are now.  Apple has been at it since 2008…seven years.  Companies sitting on the fence need to assess their strategy and get after it.  I suspect we will see more deals like this in the next year.
3/4/15: Minor edits after I slept on it